In October, our Start-Ups of the month is Dreamwaves. They created a navigation system especially for pedestrians, cyclists and people on scooters, that guides you through the city, using audio augmented reality. Hugo Furtado, CEO of the company answered our questions below.
What does Dreamwaves do?
We have created an intuitive pedestrian navigation system using audio augmented reality to easily guide people anywhere. With our system, there is no need to look at a screen or interpret turn-by-turn instruction. Simply follow the sounds that you hear.
When was your company founded? What were the biggest challenges to overcome then and what are now?
The company was founded in Feb 2019. The biggest challenges before founding were how to design a meaningful business case around an idea that seemed great. There is much more needed than the great idea and we worked hard to build that. The challenges now are to find the perfect match between technical requirements and feature and customer needs.
How was the idea born?
I worked with (visual) augmented reality since 2006. When I started I fell in love with the concept. I am also passionate about music, audio and sound design. I thought about joining the two and working on audio augmented reality. As I was thinking about this, I thought that using 3D sound to guide people like this was a really cool idea.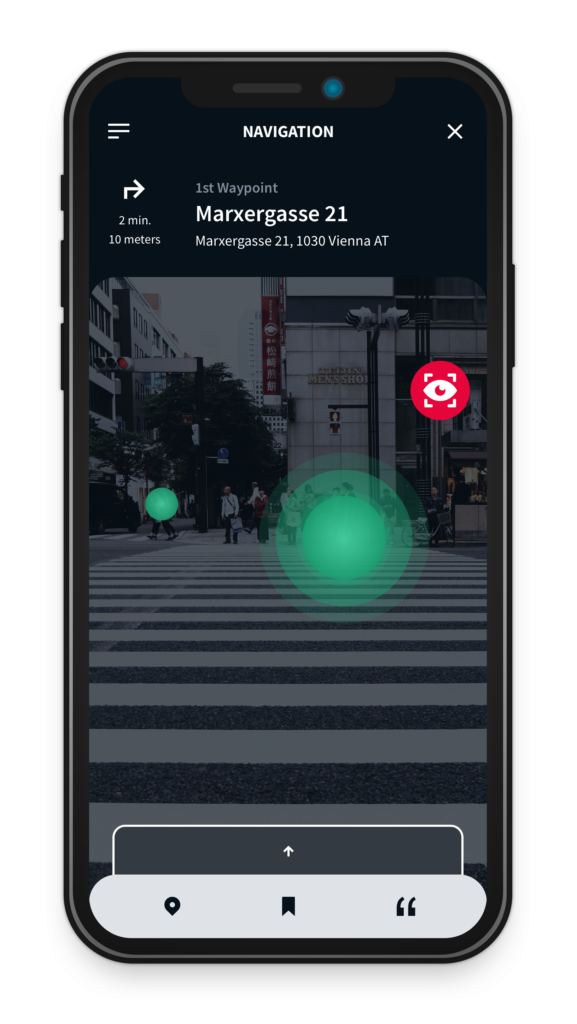 Who is behind the Start-Up?
I (Hugo) had the original idea, coded the first prototype and gave the first pushes into creating a business. After that, everyone that joined since founding had a major impact. So in reality, all the team, founders or not, is behind the startup.
Who are your customers?
We will address different customer segments. We start with blind and visually impaired as they have the biggest need. Then we will try to reach elderly people. We already work with this group in a research project where we try to understand whether they can understand directions using 3D audio and what are their navigation requirements. Finally, we want to aim at the city bikers and eScooter riders. This last group would greatly benefit from a solution to navigate easily without looking at the screen.
What is your business model?
We are a business to consumer model company. We will start with a freemium recurrent revenue model (monthly subscription to use the service with a free test layer).
How did your start-up grow?
We started by participating in the INiTS incubator in Mar 2018. Back then, it was the time where there was only a prototype and a vision. From there we worked a lot both in the scalability of our technology as well as our business case. We then got awarded a grant from the aws preSeed program which enabled us to form a team and start executing our vision. Later on, we also got a grant from the FFG Benefit program to start researching whether we could support elderly people too. Recently we were also a part of the HiReach Startup Lab where we were adapting our solution to tackle transport poverty in Europe in the future. All these steps enabled us to grow our team and develop and test our solution. Today, we are in Beta stage in the TestFlight platform from Apple.
What are you working on right now?
Right now we are focusing intensively on fundraising to take the next step towards our vision. After confirming, with a series of user tests where we accompanied blind people on the street using our app, that this navigation solution is a great benefit, we want to move into the next step: increase the localization accuracy and app features to provide the best experience possible. That will enable us to grow our user base.
How do you see your future? Which goals do you pursue?
In the next five years we want to scale up our user base, starting by the Austrian market and later on expanding internationally. We also want to expand to the android platform and address the bike and eScooter use case. We want to position ourselves as a significant player in the pedestrian and bike navigation solutions.
What should one know about entrepreneurship in Austria?
I think that in Austria there is an excellent ecosystem to become an entrepreneur. On the one hand, there is excellent financial support from the state agencies. On the other hand, there are already a lot of people in the ecosystem with experience and motivation to support people that are starting.
Do you have any tips for someone who wants to be an entrepreneur?
I would say, get ready for a lot of hard work, for needing a lot of willpower to keep going and advancing at all times. But also, the reward is at times incredible! So, if you feel this urge within you, go for it!
Pictures Copyrights: Dreamwaves