Starting into a new year, we conducted this month's start-up interview with Music Traveler. An innovative platform for venue providers to rent out their spaces and musicians to find suitable locations to play or practice at all around the world. On January 31st, they are going to launch a new service, music enthusiasts might not want to miss out on. Read below:
What does Music Traveler do?
Music Traveler is a marketplace, centralising spaces with musical instruments and equipment for the creative industry.
When was your company founded?
Founded in 2017, its mission is to promote the creation, appreciation, and interest in music by reducing barriers and facilitating new interactions.
What were the biggest challenges to overcome then and what are they now?
The current, highly fragmented market has caused significant inefficiencies: effort involved in finding and securing concert halls, venues, practice, rehearsal, recording spaces is high, while spaces lay empty, resulting in a lost opportunity. Not to mention the lack of access, consolidation results wasted time, decreased productivity to costs. With the two-sided platform business model, broader opportunities and larger market penetration exist.
How was the idea born?
HERE​ is a video from one of our ambassadors. It is an exaggerated version of how it was born!
Our Co-founder Aleksey Igudesman had the idea for Music Traveler when he was taking a walk through Vienna's city park with his girlfriend at the time. As a pianist, she kept facing the same problem every time she traveled – finding a room to make music. Our co-founder Julia Rhee, who is a former pianist and successful business woman, was also encountering the same problem – wanting to make music without disturbing the neighbors. One day Aleksey called Julia in New York. Julia extatic to get behind such a wonderful idea as Music Traveler. Before we launched, we did a lot of research to better understand the music industry. We noticed very quickly that the demand for many instruments, ensembles, bands and the most varied of genres is very high, and on the other hand it is very difficult to find rooms to make music. After seeing the enormous size of the market, we gathered a strong team around us. Good friends and acquaintances as stable business partners is what made our company grow seriously. In the meantime, professional musicians, as well as amateur musicians and amateurs, book on Music Traveler and some of them also discover their love for music.
Who is behind the Start-Up?
The team is made up of musicians and culture lovers, based between Vienna and New York. Each member of our team has a unique and rich work experience behind them. The company is also endorsed by John Malkovich, Hans Zimmer, Billy Joel and many other notable artists on the advisory ​board.
Who are your customers? What is your business model?
At a basic level, we have two customers – a buyer (the demand), such as a musician, and a seller, such as a venue (the supply). On our digital focused platform features, the buyer is a viewer and the supplier is the musician, music groups and producers streaming contents to broader audiences. There are various permutations of these basic types of customers. Under the simple segmentation, we can sub-categorize our key target audiences and users benefitting from the features described above.​ ​Therefore the further segmented in 4 categories​ are in short: a- artists, b- venues c- general public audiences for our new upcoming features and d- music related businesses, organisations including but not limited to artist agencies and management, record labels, academic institutions and more.
Our current business model is transaction based but, we will soon extend our models to add a quasi-subscription revenue model to potential advertising models for the contents.
How did your start-up grow?
Since the launch, the platform enabled musicians and live performance production organisers to find and lease creative spaces, varieties of venues including recording studios, concert halls, rehearsal spaces, lesson spaces, etc. with or without instruments or equipment for a transactional fee. The current inventory contains spaces in over 29 cities in 9 countries. We have newly overhauled and upgraded our iOS, Android mobile app, planning to expand to 65+ cities covering 20+ countries in the next 12 – 24 months.
How is the Covid-19 pandemic influencing your company?
A main challenge within the music industry over the decades has revolved around the digitalisation from new business models, distribution channels, and interaction between audiences. This transition has mostly impacted the recording industry and it is now going through a new adjustment period. ​We saw this crisis as an opportunity to rebalance the musical ecosystem in favour of the artists: no more distribution models that give music away for free on the platform and artists that are in full control of their content and earnings. In short, some of our projected products/services we have planned for the slightly later side of our roadmap has been shuffled to continue serving our customers.
What are you working on right now? How do you see your future? Which goals do you pursue?
During the difficult time the creative industry is going through with the coronavirus crisis, it is very difficult to say where we will be in three, four or five years. But we have some creative ideas on how we can continue to support all musicians. We are currently working on a "Bring physical to digitally / perform local-share globally" concept that we want to present very soon, in which it is easy to stream a performance of themselves from any place and sell tickets directly through Music Traveler. This way fans and families can support the artists without anyone having to beg. This is not a "pivot", just an additional feature that we already had in our plan and now simply developed it.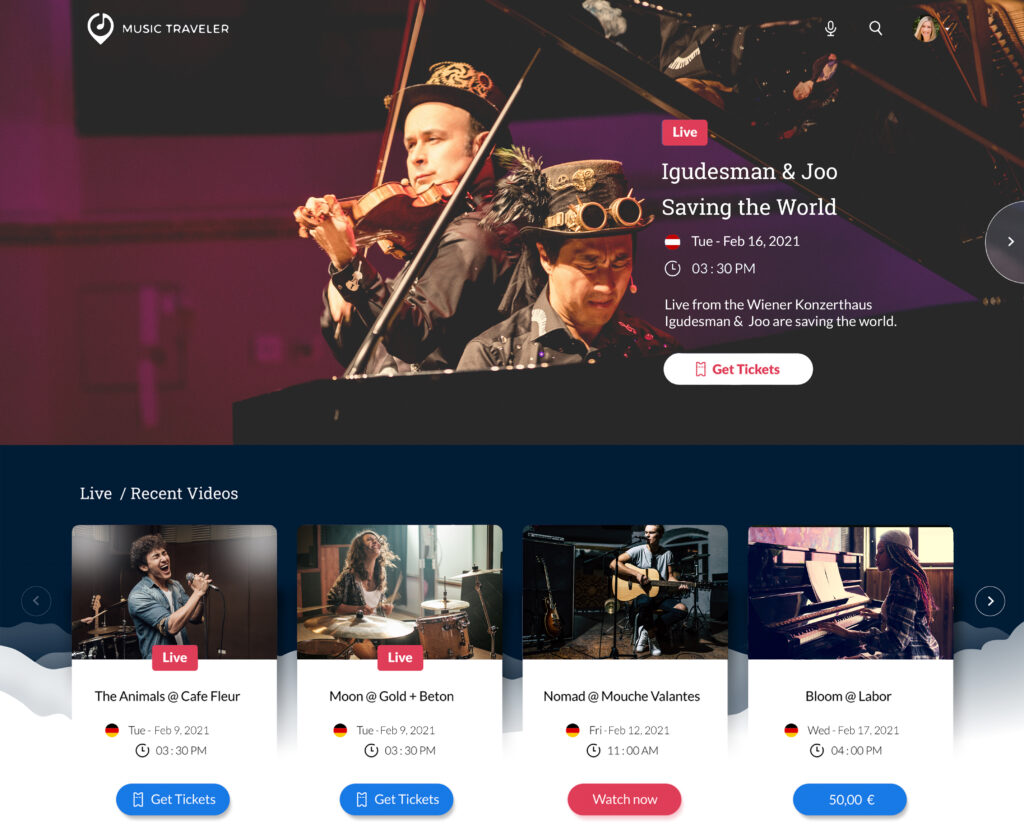 We will present this feature on January 31st, so just have a look at ​www.musictraveler.tv​ and support all the musicians out there.
What should one know about entrepreneurship in Austria?
Austria is a good place to start a business. There are several organizations like the Vienna Business Agency, FFG or the AWS where you can get support through consultations or financewise.
Do you have any tips for someone who wants to be an entrepreneur?
No. Not because we would like to not share our tips but we believe everyone is different in their background, skills, environment and resources that are surrounded by. Thus, hard to generalise tips for the aspirational entrepreneur.
???? (c) cover picture: Music Traveler
---
???? Want to read more interviews with innovative Austrian start-ups? Click HERE.