????: Magdalena Schauer
This month's start-up shows us that a global crisis such as the Covid-19 pandemic, despite all odds bears a lot of opportunities as well. Room4Physio was founded during the first lockdown in the spring of 2020. The lack of remote solutions for physiotherapies during the pandemic led our Interviewpartner Oliver Alf and his co-founder Stefan Burkart to tackle this problem: room4Physio was born.
What does room4Physio do?
Room4Physio makes physiotherapy fun, sustainable and affordable. We digitalize the physiotherapy & rehabilitation process for physiotherapists, clinics and patients with a novel treatment model. Our blended care approach enables efficient and sustainable rehabilitation using digital tools, always tracked by an expert. Our eHealth app for patients for at-home exercising keeps patients motivated and all relevant progress and rehabilitation parameters tracked.
When was your company founded? What were the biggest challenges to overcome then and what are now?
We started during the first COVID-19 lockdown in march 2020 to quickly help physiotherapists stay connected with their patients. The biggest challenge was and still is to find the right balance on when to release the product and offer it to the customers. It is always a balance between speed to market and range of features.
How was the idea born?
Oliver, one of the founders, has had physiotherapy since his cruciate ligament rupture 5 years ago. Also during the first lock-down he was in need of the treatment, however, no solution for digital physiotherapy was out there. Together with Stefan and his physiotherapist Kerstin, the idea of room4Physio was born.
Who is behind the Start-Up?
We are 3 founders with the common vision to make physiotherapy sustainable and affordable to everyone. Oliver founded a startup during university & spent 4 years with BCG with focus on go-to market strategies. Stefan has an engineering and management background from ETH Zurich, managed a junior consulting with 1Mio turnover. Lukas is tech-guy at heart, who did his PhD in New Zealand in eHealth topics and worked as a tech-lead in startups.
Who are your customers?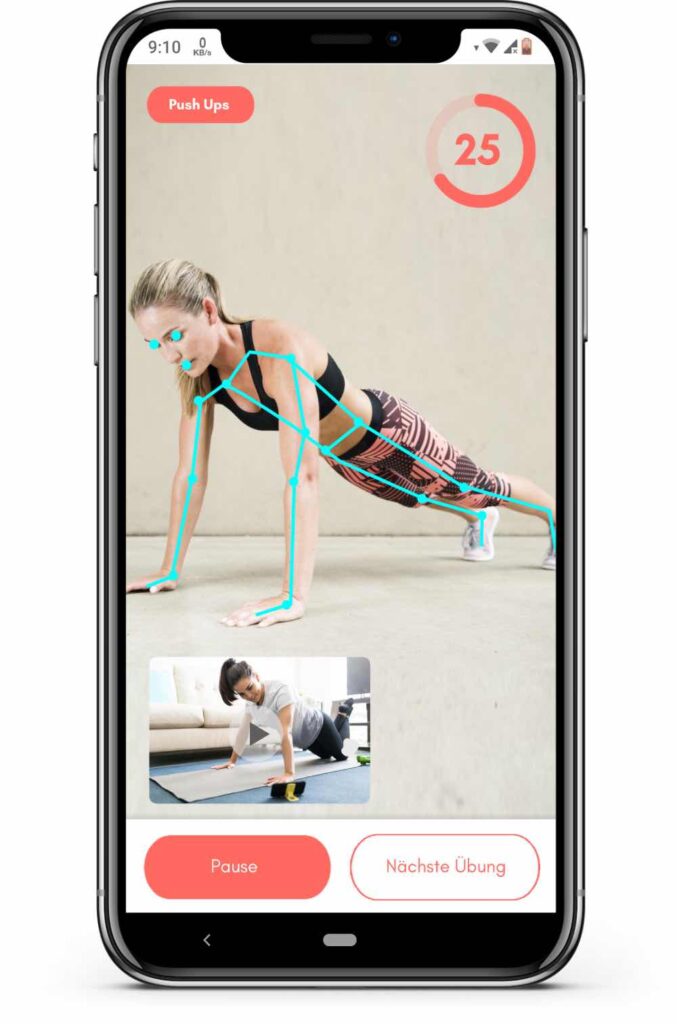 We have two main customer groups:
Rehabilitation Clinics & hospital groups: With room4Physio we enable clinics to give digitally aftercare to patients and receive data insights on the effectiveness of the treatment
Self-employed physiotherapists: We equip physiotherapists with easy-to-use technology to conduct teletherapy and create personalized video training plans
What is your business model?
In the short-run a fee is charged to clinics for using room4Physio software as a service solution. For self-employed physiotherapists, patients will be paying for the health application to exercise at home.
In the long-run our goal is to have insurance companies pay for the treatment by proving that room4Physio enables patients to adhere to the important exercise therapy and make the system more efficient (lower rate of relapses)
How did your start-up grow?
We started during the first lockdown at the #hacktheCrisis Hackathon from Austrian Startups and went online in August 2020. Since then we won >120 physiotherapists and >10 corporate partners.
What are you working on right now?
We are currently working on our mobile app for patients to receive personalized training plans and keep track of their exercise therapy with the mobile camera.
How do you see your future? Which goals do you pursue?
Short-term we want to validate the product with clinical partners in the first half of 2021. Mid-term we aim to expand to the DACH region. Most importantly, we aim to prove that our solution significantly increases patients' adherence to exercise therapy – we need to show to patients that regular exercising improves their quality of life and make them really comfortable with regular exercising.
What should one know about entrepreneurship in Austria?
The good things:
· Austria is a very good starting market to test your product and receive quick feedback towards product/market fit.
· Strong support from Startup Scene (especially Austrian Startups)
· Good access to public grants through Vienna Business Agency, AWS and FFG
The hard things:
· Access to private capital limited
· High bureaucracy in terms of founding a company and labor law
· Scarce resources for software developers!
Do you have any tips for someone who wants to be an entrepreneur?
Be passionate about your idea and market & have fun! Starting a company is hard and without enthusiasm & fun you might run out of energy. And – getting the right people on the team is crucial!