The Covid 19 pandemic has highlighted the fact that companies that are not adaptable are dying out. In Germany alone, there were over 120,000 insolvencies in 2021. Sluggish corporate structures and outdated organization models lead to extinction. The call for agile management is getting louder. We give you three tips on how you can make your company more agile and flexible.
1. Sprints instead of Marathons
Traditional product development is slow. Very slow. It often takes many months, if not years, to go from the idea to the final market launch.
The problem: in our fast-moving, uncontrollable economy, there simply isn't enough time. What is trendy today will be forgotten tomorrow and many products are outdated before they even hit the market.
Therefore, the name of the game is to be fast. Companies must drastically reduce their development times for new projects and products in order to be able to react agilely and flexibly to the market. For this to succeed, we recommend project organization according to the Scrum method.
In this case, a rough project framework is initially specified in the classic manner. However, in contrast to linear project organization, the final goal or target product is not binding. Instead of working for months on a predefined product, (partial) products are developed in smaller time frames. Sprints instead of marathons.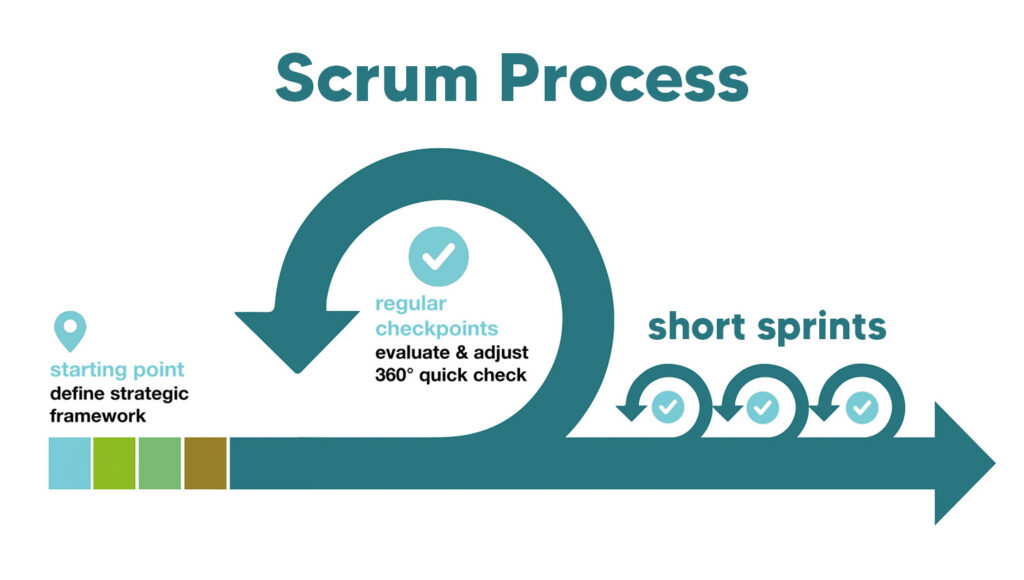 The great advantage of this method is its adaptability to current market developments. Products developed in the sprints can be tested on customers and thus evaluated immediately. This allows changes to be made according to customer requirements – even during the development phase. The motto: deliver and learn. Through such explorative work, you quickly gain insights and reduce your idea-to-market time.
To ensure that the project runs smoothly, the Scrum Master monitors the team in the correct application of the organization method and provides support where necessary. The Product Owner is responsible for quality assurance and documents the product progress in the "product backlog". The individual team members complement each other optimally in their skills and expertise. Throughout the entire process, the focus is on the customer.
Sounds confusing? Learn more about the Scrum method here.
2. Educate, enable and empower your Employees
Agility starts with each and every one of your employees. Flexible, well-trained and adaptive employees are the foundation on which agile organizations are built.
Lululemon founder Chip Wilson always wanted to get the best out of his employees. For that to happen, he says, the first step is to share the same values. As a guest on the Tim Ferris Show, Wilson reveals how Lululemon managed to achieve that:
"Firstly, we had five books or courses, which everyone took in the first two to three weeks they were with the company. Out of this we created a linguistic abstraction of 30 terms and definitions, which became the culture of our company. That allowed us to expand exponentially because suddenly everyone was speaking the same language."
Among the carefully selected books were self-management classics such as Stephen Covey's "The 7 Habits of Highly Effective People" Through this "forced education", Wilson's employees developed a highly productive and flexible work ethic… Which book would you recommend to your employees?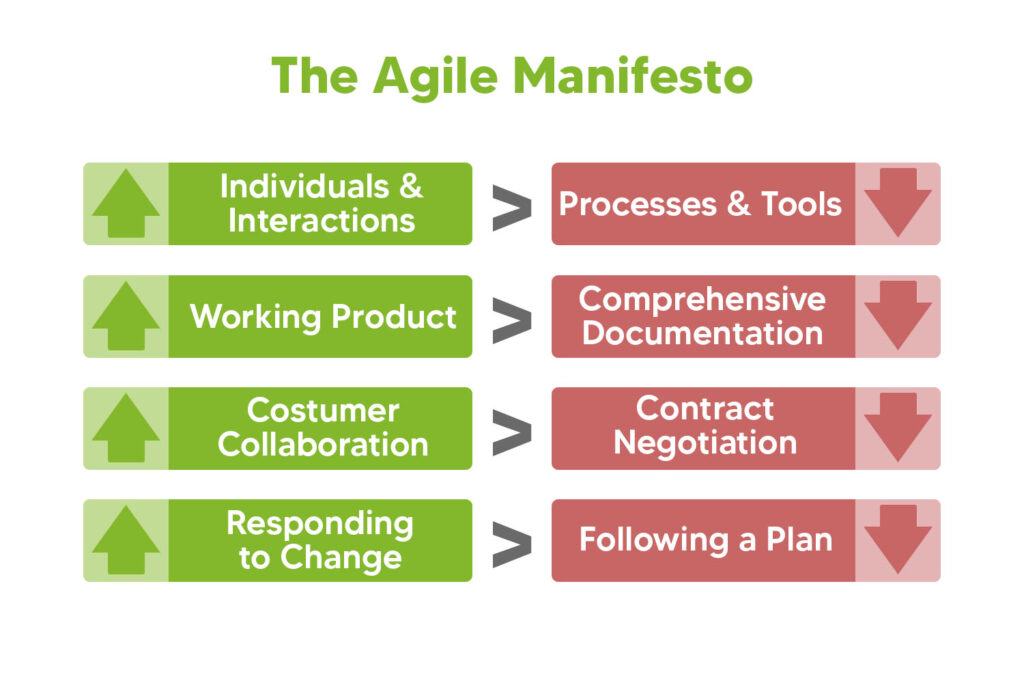 With so much freedom and opportunities for creative development, it is important not to lose sight of the goals. These include both overarching goals of the company, but also the specific goals of an individual sprint. These goals should not only be formulated SMARTly, but also shared publicly. This can be done, for example, with the help of a Kanban board that is displayed in the office. Team members are encouraged to share their goals. In this way, they commit to each other and the probability of success increases.
3. Using digital possibilities to your advantage
Never before has there been such a large wave of digitalization as in the last two years. The pandemic has forced companies to switch to digital working. Agile organization is more important than ever and now easier to implement thanks to modern tools.
Flexible projects require flexible meetings. Thanks to video conferencing with Microsoft TEAMS, Zoom and others, continuous exchange of information on project progress and spontaneous brainstorming sessions are more efficient than ever before. Your team consists of international experts from all over the world? No problem, because hybrid working is possible regardless of time and space – thanks to current software. This is invaluable in the context of agile Scrum projects.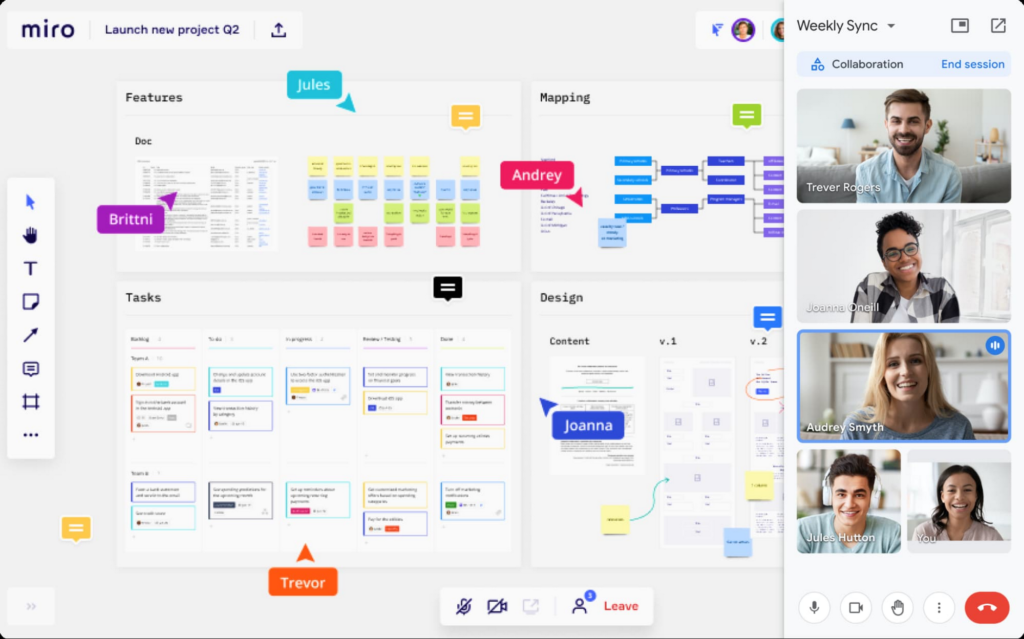 Other tools such as Slack or Miro Boards allow your team to stay oriented even during confusing sprints. Digital whiteboards can be used to create extensive collections of ideas which can be edited by every team member even after office hours.
Shaping the future. Agilely.
The market is changing at a rapid pace. The only certainty lies in uncertainty, since what is trendy today will be forgotten tomorrow. Only agile companies manage to take advantage of this fast pace. To do so, they use flexible organizational models (e.g. Scrum), invest in their employees first and use up-to-date tools to support their staff in the best possible way. With quick idea-to-market times, agile companies are always one step ahead of their competitors. The solutions are innovative and tailored to the customer.
So, what are you waiting for? Take advantage of these benefits and start your agile transformation.
We are happy to support you.