In January we talked with the founders of Sprad about their new software for recruiting talents through recommendations. As usual we asked them to give us some insights on their biggest challenges and provide tips for future entrepreneurs. Fasten your seatbelts and get ready for this months interview with a Start-up made in Austria.
What does your company do?
Sprad is a recruiting software that enables companies to use their most effective recruiting channel: employee referrals. We help companies turn employee referrals into the most significant source of new hires. Sprad is perfectly optimized for white-collar and blue-collar workers. In the case of white-collar works, Sprad can suggest suitable candidates to employees from their professional networks. This tremendously increases the quantity and quality of referrals. On the other hand, Sprad allows blue-collar workers to easily participate via WhatsApp & SMS. Both aspects are game-changers for their target groups.
How was the idea born? What is your motivation behind it?
The idea was born when we noticed that a serious labour shortage problem was starting to develop. Especially with regards to hiring skilled workers, the issue was becoming real and concrete. Since we already were established B2B software creators, we set out to address the issue with tangible software which would actually make a difference. Because labour shortage has become such a widespread issue across almost all facets of the economy, we're also planning to create a systematic solution encompassing employee branding and motivation.
With the COVID-19 pandemic still looming strongly and increased digitalization across all business sectors, skilled labour shortage will continue to be a pressing issue. And as the problem gets bigger and bigger, Sprad is committed to develop better and more effective solutions.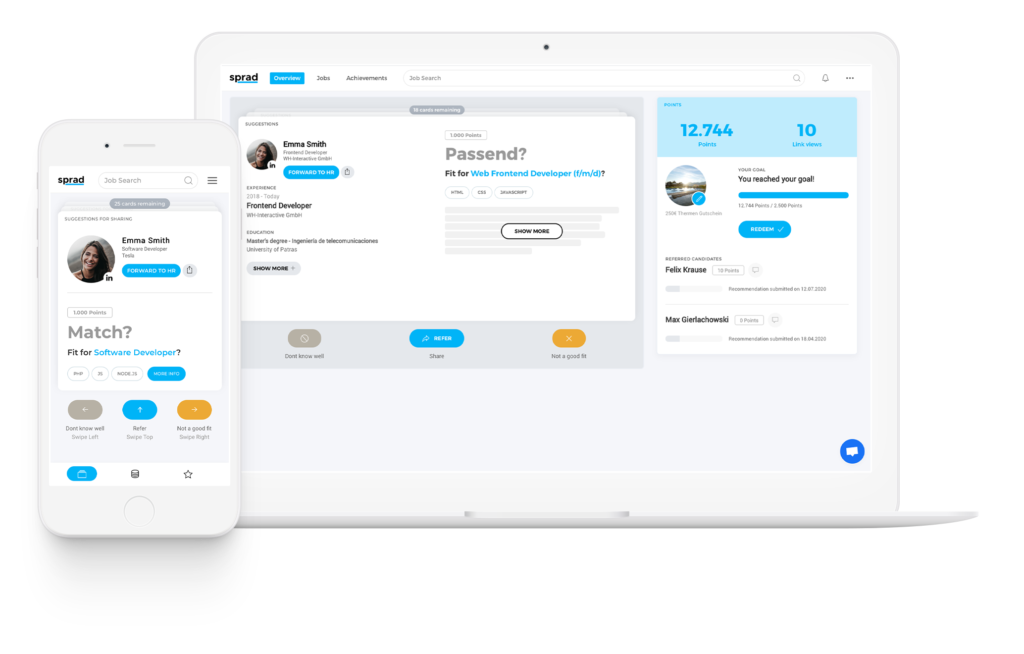 Who are your customers?
Our customers are all companies who hire and recruit employees. Our current customer base spans from corporate companies focused on hiring en masse to smaller start-ups in critical growth phases. We serve both white-collar and blue-collar employees, as well as companies in all possible sectors of the economy.
How did the start-up grow?
We started working on Sprad right before the beginning of the COVID-19 pandemic. When recruiting ultimately stopped due to health risks and restrictions, we worked tirelessly to improve and optimize our product. Around May or June in 2021, we really got started commercializing the business and found our first customers.
How has the Covid 19 pandemic impacted your business? What did you do to adapt and how do you cope with it right now?
The immediate impact was quite dramatic since all recruiting was effectively halted due to the COVID-19 pandemic. Our main target demographic, startups, were solely focused on financial survival and didn't prioritize adding new software. And so began a slow process of maximizing our product's capabilities and continuous learning. However, we remained persistent and in Q2 of 2021 we really started to see growth and closed many new customers.
On the contrary, the indirect impact of COVID-19 has actually increased our customer's pain point. Labour shortage became an issue of grave importance– companies began to digitalize their operations, new hiring took place, and people frequently changed jobs. Thus, more demand was created.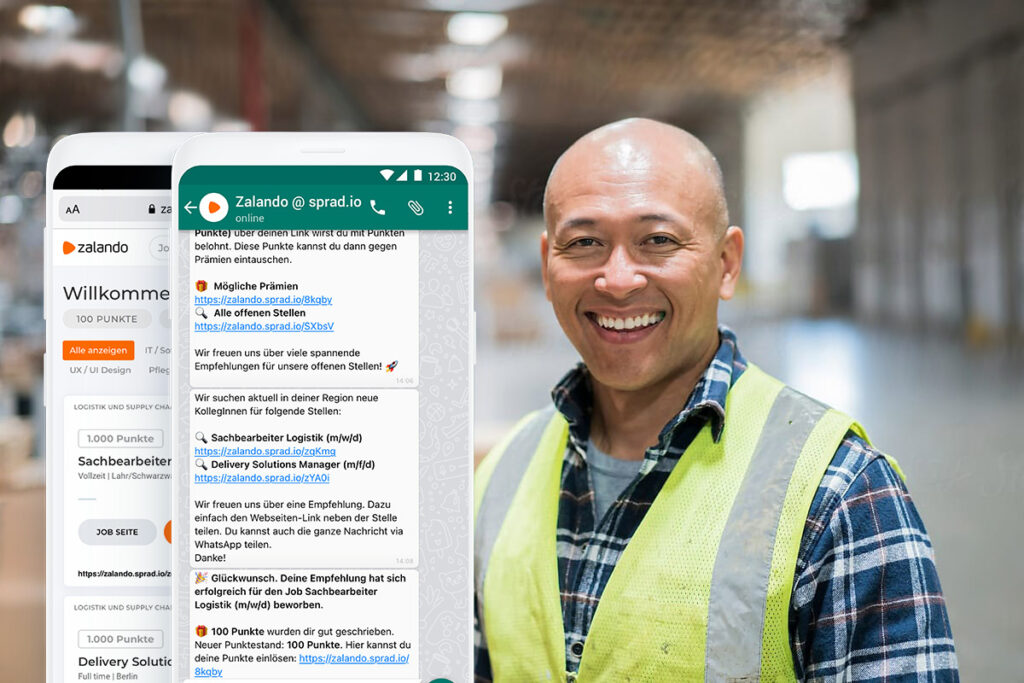 What was the biggest challenge you had to overcome as a company? How did you manage it?
Our biggest initial challenge was centered around finding our first true customer. A customer which we could make happy and successfully gauge their needs. We optimised our product until a customer could truly be fulfilled by all our functions and features. We also began to experiment with our product to see what would work best and what might need to be left out. We identified our target market more clearly and adjusted our pricing.
Some of our continuous challenges include understanding pain points, gaining insights and persevering through difficult times.
What are you working on right now?
Currently, our main objectives are threefold. Firstly, we want to finetune our product to bring more value. Specifically, we would like to optimize our integration process with other software to make everything as smooth as possible. Secondly, we want to grow, learn, and gain input about new customers and industries. We believe that increasing knowledge is critical to facilitate business growth and development. Thirdly, we would like to grow as an organization by means of hiring new talent and potentially looking for investors.
What should one know about entrepreneurship in Austria? Was there a special reason why you decided to found your company here?
Although not the most popular environment, Austria does offer some benefits. There is a lot of money to go around and financing can be easier. The community is relatively tight-knit with relationships being more easily built and managed. Additionally, Vienna offers a high standard of living paired with nice surroundings. There is no special reason for our location, just that our founding team lives here and is originally from Austria. Vienna might not be Berlin or Silicon Valley, but it's steadily growing and trending in the right direction.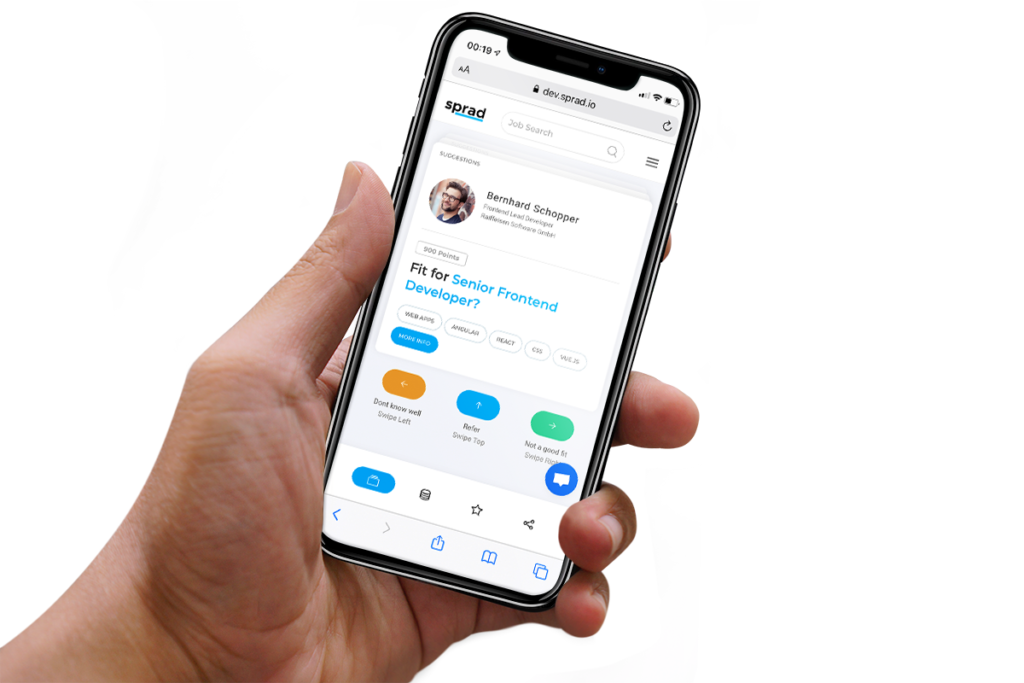 Do you have any tips for someone who wants to become an entrepreneur?
Identify a big, strong problem. Thinking of a true need in society is more important than finding a random solution. It's better to have a smaller target audience with a huge problem than a big audience with a small problem. A real pressing need is an absolute necessity for any entrepreneurial endeavour.
Gain feedback, experiment, and try to find the best solutions. Understand your competitors and what could make you stand out from the crowd.
Entrepreneurship is an emotional rollercoaster. You need to be able to conserve your energy even during the lowest of lows, because the next opportunity could come soon. Managing your emotions and motivations is also critical. But most importantly, don't give up!